Interested in Becoming an Official ?
---
---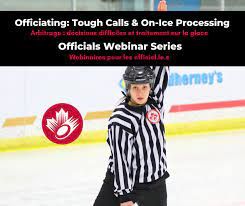 ---
INTERESTED IN BECOMING AN OFFICIAL?
The Level 1 officiating clinic is designed to educate new officials in the basic techniques of officiating.
The online clinic material is covered in three (3) hours.
Topics covered include:
Qualification and pre-game duties
Positioning and mechanics
Violations and rules
Body contact principles
Signals
The clinic is wrapped up with a Level 1 quiz, with a 50% pass required to certify.
The following items are required to get started officiating skates, black CSA certified helmet, whistle, black pants, and an official's jersey.
When you complete the clinic, it is up to you to contact your local association Referee-in-Chief, complete the RO Registration Form and get on the ice!
Good luck and have fun!
Minimum age - 16
https://www.officiatingringette.ca/o/index.php?page=203
https://ringetteontario.com/the-people/new-officials/
Have questions? Contact the WRA at president@waterlooringette.com